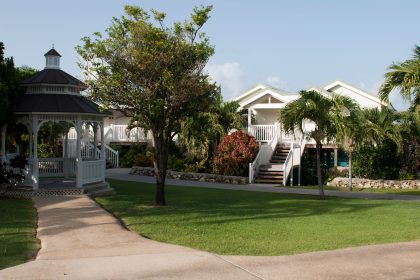 According to Lawn Starter, natural flagstone is sedimentary rock broken up into layers and used for landscaping. This consists of different types of rock, usually, limestone, shale, granite, quartzite, or basalt. Here is a deep dive into flagstone, how it's used, and its benefits.
Types of Flagstone
There are different types of flagstone. You can choose from select, thin select, or patio flagstone. Each type offers a different thickness and can be used for different projects. You may want to use patio flagstone for stepping stones or walkways and use select flagstone for seats or steps. While most are seen in their natural jagged patterns, they can be shaped into other sizes like rectangular pieces.
Ways to Use Flagstone
There are so many unique ways to use flagstone. A retaining wall with this type of stone is perfect for low walls. It's stacked for a short height and makes an interesting textured look. Flagstone is always great to use for borders, whether you are outlining a water feature, pool deck, or even a garden. The large, flat surface lends itself to a rustic-looking edging. A fire pit made out of flagstone is yet another way that's used by this versatile style of rock.
Benefits of Flagstone
There are so many great reasons to use flagstone in your projects. One reason is that it's nearly flat when it's mined so it's great for projects where flat surfaces are needed. It's also a non-slip surface naturally without adding top coats. Because it's a strong and stable rock, it typically will not break or form cracks. It also comes in different shades, like gray, tan, blue, and other natural colors. With these natural color selections, you can find one that will enhance your patio or garden, or you can mix and match them for a lovely earthy feel.
These were just a few great ways flagstone can be incorporated into your next outdoor project. With its versatility and stability, the possibilities are endless. If you're looking for a way to add texture and uniqueness to your property, contact Arizona Trucking and Materials today to learn about the different materials we offer. Whether you're looking for flagstone, sand, or gravel rock, we've got you covered!