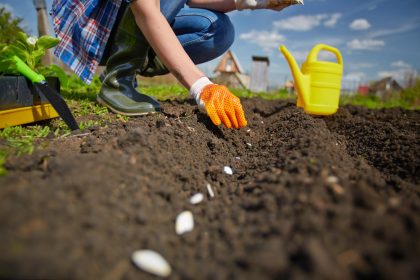 Landscaping rock has a variety of uses for your yard or property. In this article, we will give you ideas on how to use it in your yard or garden to enhance the visual appeal of your home, apartment, or condo. River rocks come in many different sizes, 1 inch to several inches wide. They are rocks that are made smooth by the water in the river or stream. There are many types of landscaping rock to use and your local supplier can help you choose the best kind for your property.
Replace Mulch And Use For Garden Paths
You can use rocks to replace mulch in the garden and on paths. They are very attractive and durable. The white stone or pale colors provide a contrast to some of the colorful plants and bushels you grow. It is ideal for planting around shrubs, trees, and bushes. The rocks will keep weeds from growing and there will be less weeding needed. Rocks make great paths in the garden and are attractive and easy to maintain. They can easily be replaced if you need to add more.
Create A Container Garden In The Front or Back
Buy some potted plants at your local garden center and set them up in the yard in a good location with landscaping rocks around them. You can buy flowers, herbs, or vegetables. Pick stones that you like the looks of and surround your plants with them. Be sure you can easily water them with your hose or watering can. Make sure your pots have holes for proper drainage into the ground. Skip the weed barrier as the stone will provide the same effect.
Create A Border or Stone Path
Creating borders around shrubs and in gardens with larger rocks will give your landscape a neater, more organized look. Use varying-sized stones depending on the size of the plants, bushes, or trees. Rock used for borders makes your property look neat and well organized. Flat stone allows you to make a stone path on the lawn or in the garden that creates a special ambiance. Stepping stones come in many sizes and designs.
Landscaping rocks can improve the value of your home by giving it a curbside appeal. They prevent weeds and provide an attractive ground cover. Check with your local landscaping rock supplier to find the best type for your property. There are many kinds of landscaping rock.