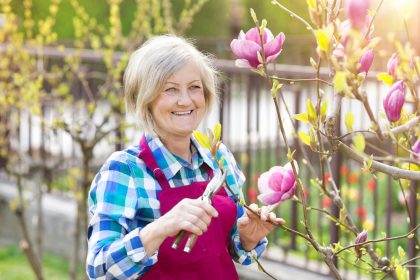 Some landscaping projects are more appealing than others. For example, installing a new lawn is nice, but installing a winding path through a flower garden is a little more of a draw. Many landscaping projects are very popular among homeowners. Here are the three top landscaping projects that homeowners are in love with.
1. Raised Garden Beds
Whether it is raised vegetable gardens or raised flower gardens, homeowners love a raised garden bed. Raised garden beds are a great way to reduce the maintenance needed. It will also reduce the aches and pains of bending over a garden. Raised gardens are ideal for both small yards and large yards. Raised beds are also a great way to incorporate pavers into your garden. Graduated raised beds can add a focal point. They are great space savers that add interest and are super easy to maintain.
2. Winding Paths
Another favorite among landscaping projects is adding winding paths around garden spaces. What better way to upgrade a landscape than add a stone path through it? Paths made from river rocks are very popular. According to the Gardening Channel, river rocks are available in a range of sizes from very small up to one inch across.
3. Natural Privacy Fences
Homeowners want to keep their yards natural, pushing this landscaping project to the top of the list for many homeowners. A natural privacy fence is made of tall shrubs, trees, bushes, and other greenery. A natural fence is not the eyesore of a traditional wood or metal fence but serves the same purpose. A natural fence, when designed correctly, can keep prying eyes out of your yard while letting the natural beauty of the shrubbery and plants add interest to your yard.
Many landscaping projects are in line for the top three. People are making the most out of the property they have by consulting with companies to learn how they can use their landscape. Landscaping adds value to your property and tremendous value to your lifestyle. Learn more about the projects you should have on your radar this spring by speaking to Arizona Trucking and Materials today.