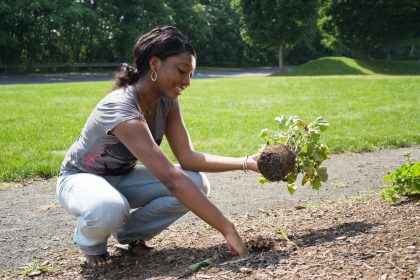 A great landscape can add a lot to your home, and not just on a personal level. Your landscape is often the first impression people have of your home, and it can make a big difference in terms of adding value to your house. In fact, when you spend money on your landscape, it often yields a much higher return on your investment. With that being said, you'll want to make sure you're aware of trends, just as you would when working on your home's interior. The last thing you want is to spend a lot of money on landscaping without even having a chance at the return on your investment.
Let's look into some of the main trends surrounding landscaping. The more you know about these trends in advance, the easier it will be for you to select landscaping project materials.
1. Zen Gardens
Perhaps one of the biggest landscape trends for 2022 is the zen garden. The great thing about a zen garden is that it doesn't require the same level of maintenance as a typical garden. There are no living plants for you to water or prune. Rather, the landscaping project materials you use will focus on sand and stone. You'll be able to make patterns as you please with rakes, allowing you to burn off stress in a way that doesn't involve a lot of effort. Additionally, there will be plenty of materials for you to choose from; crushed rock can be bought in several different forms, including .5 to 4 inches in size.
2. Tropical Plants
On the other hand, if you like the idea of having living plants in your garden, why not go tropical? Right now, many of us are not able to travel as much as we would like. By bringing the tropics into your landscape, you can mentally visit a destination through some simple landscaping project materials. Think of caladiums, rose mallows, and cannas if you want a tropical aesthetic.
3. Wildlife Friendliness
If you want your landscape to welcome wildlife, it's not too difficult. Bring in flowers that will attract butterflies and hummingbirds. Include water features that animals will appreciate. Make your garden with animal visitors in mind.
With spring just around the corner, you have time to plan out your landscape design for 2022. Think about your landscape carefully, it could greatly impact your appreciation of your property. Contact us today for different landscaping project materials you may need to execute your design!