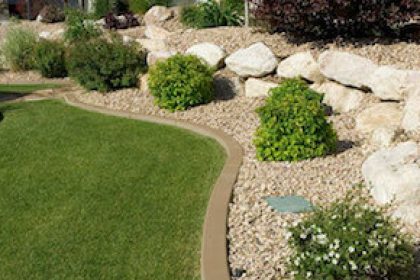 Are you planning to enhance your landscaping this year? If so, we can help. Below, we've covered five trends for 2023 to incorporate into your outdoor updating project: artificial grass, water features, landscaping rock, outdoor dining area, and garden lights. Review this list and consider which trends best correspond with your wants and style preferences.
1. Artificial Grass
Artificial grass is a popular landscaping option for many reasons. First, this landscape feature will increase the aesthetics of your outdoor space and make the ground appear bright and vibrant throughout the year. Plus, artificial grass can be environmentally beneficial since it requires no excessive watering or harmful pesticides to look great.
2. Water Features
Water features are said to be a popular trend for 2023. This landscape addition can be a beautiful element to your outdoor space that creates relaxing sound effects. Some popular water features include koi ponds, fountains, wall waterfalls, and garden creeks. If you're interested in this, ensure you are mindful of the required space and maintenance of a water feature before purchasing one.
3. Landscaping Rock
Landscaping rocks is a must-have for homeowners who want to add textures, colors, and dimensions to their yards. The rock can be a mulch replacement, be used to fashion a water feature, raised flower beds, and more. One of the most popular landscaping rocks is crushed stone. This rock type typically ranges between 0.5 to 4 inches and is commonly used to create smooth walkways outdoors.
4. Outdoor Dining Area
If you are an avid entertainer, adding an outdoor dining area might be just the ticket for your landscaping update project. The dining area can include furniture, outdoor rugs, throw pillows, and more. Many homeowners opt to add an outdoor dining area because it's the perfect way to gather guests without being in the stuffy confines of a house.
5. Garden Lights
Implementing garden lights into your landscaping allows you to enjoy your outdoor space day and night. While there are many different garden lights to purchase, LED light strips have been all the rave for 2023. In addition to being environmentally friendly, LED light strips create a beautiful ambiance that will increase curb appeal immensely. To make garden lights even better, look for those that connect to your phone for easy control.
Your outdoor space is the perfect spot to entertain guests and experience relaxation right at home. Take the steps today to upgrade it by installing artificial grass, adding a water feature, purchasing landscaping rock, and implementing garden lights. To get started with our quality landscaping rock and materials, check out out inventory and give us a call today!